Sea Point Dentist - Dr. B. Beilinsohn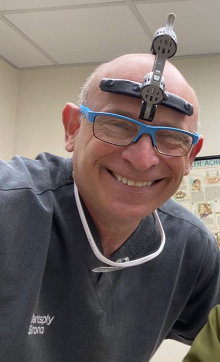 Dr Barry Beilinsohn qualified as a dentist in 1988 at the dental school of the University of Stellenbosch. After completing military service he joined his father Dr Maurice Beilinsohn in private practice. There he worked for 10 years before opening another practice. Currently we have 3 practices servicing all aspects of dentistry. He has been in partnership with his father for some 20 years. We have surgeries in Sea-Point, Plumstead and Goodwood. Our Goodwood surgery has been established for over 50 years - two family generations of dentists.
Our flagship dental practice is based in Sea Point just 10 minutes from the V&A Waterfront and Greenpoint.
His special interests include preventative, restorative and reconstructive dentistry. His specialties include aesthetic dental make-over's which encapsulate all aspects of cosmetic dentistry: teeth whitening, porcelain crowns and bridges, veneers, inlays, natural tooth coloured metal-free fillings, dental implants, a range of removable and implant-supported denture options.
Advanced periodontal, maxillo-facial and implant cases are treated in conjunction with leading Cape Town periodontists and maxillo-facial surgeons.
Dr Barry Beilinsohn has been a member of the South African Dental Association for the last 20 years. He served as President of the South African Dental Association Western Cape for 2010 and 2011. He is also a member of the National Dental Council.
He regularly attends dental congresses and lectures, and reads dental journals to stay abreast of the latest products, techniques and advancements in dentistry.
Dr Beilinsohn is married to Debi, they are blessed with a daughter Kiara and a son Zaccary.
Hobbies include model building and watching movies.
"My real passion lies in comic and superhero collecting. I have been collecting comics for around 40 years. My uncle started me off as he was one of South Africa's largest collectors. I vividly remember going with my dad weekly to the local corner cafe and buying a few comics at a time. And that's how my collection grew."