Porcelain Veneers in Cape Town

Porcelain Laminate Veneers create an incredibly noteworthy reconditioning of teeth requiring a permanent aesthetic alteration in shape, size, colour and position. They also require less reduction of the natural tooth than the crown. In this regard, they are the most attractive choice in creating a good-looking smile.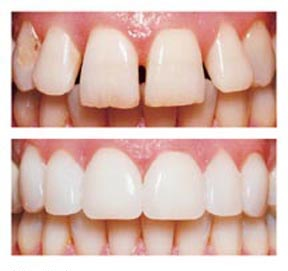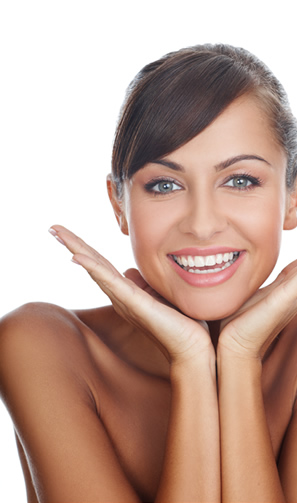 It takes about one week for the manufacture of the porcelain veneer in the dental laboratory, although, as the reduction of the natural tooth is minimal, a temporary solution is not usually required (although we can make one if necessary). After the first appointment where the teeth are prepared for the veneers, the teeth will be sensitive, but this will pass once the porcelain veneers are fixed.

Fitting these veneers does not usually require local anesthetic- unless a patient is very anxious or highly strung. Resin is used to solidify the the porcelain veneer through a process of using white light. Porcelain is very strong, and can withstand most foods in a normal diet, although, chewing hard sweetened apples, bones or opening nut shells with porcelain teeth are not recommended (as with natural teeth).
 Maintaining Your New Porcelain Veneers :
If you tend to grind or clench your teeth at night, a soft night guard can be manufactured for you by the dentist so as to avoid damage to the porcelain veneers.
Avoid very hard foods like biltong and toffees.
Keep a good home care routine with your porcelain laminate veneers. Daily brushing and flossing is essential, avoid abrasive tooth pastes. Any enquiries in this regard can be forwarded to your dentist.

A follow-up appointment, usually one week after the porcelain veneers have been placed, is scheduled for a necessary evaluation as to the tissue response and the aesthetic & practical placement of the veneers. Thereafter, with regular dental check ups and the correct home care, your porcelain veneers will ensure you will enjoy a stunningly beautiful smile for many years ahead.
Contact our Cape Town dentist for further information or a quotation to have your porcelain veneers done at our Sea Point dental practice, on 021 434 3663.